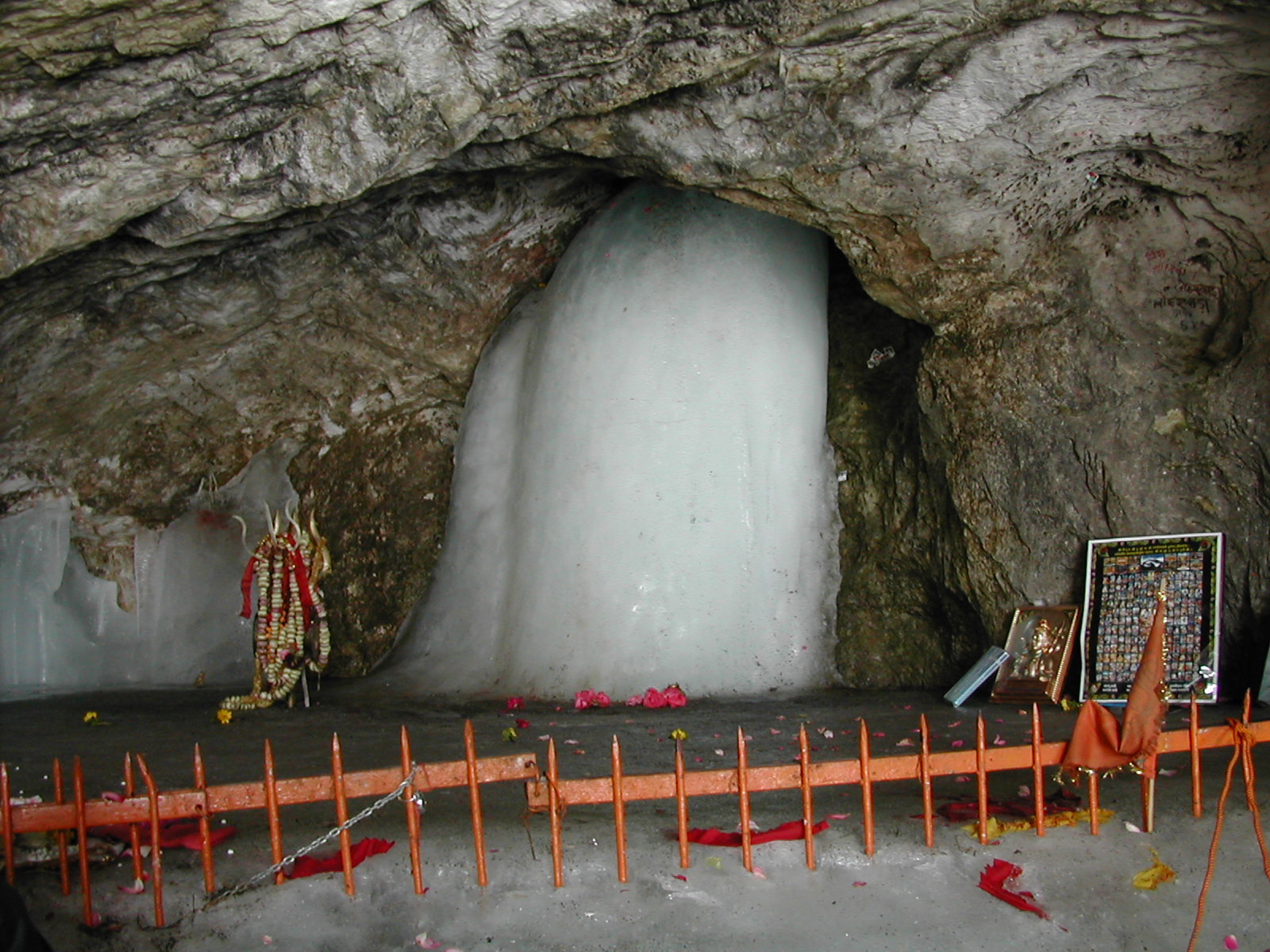 A visit to the sacred cave shrine of Amarnath in the state of Jammu and Kashmir is the pinnacle of Hindu pilgrimage. Each year in the month of Shravan (July-August) when the moon is full, thousands of devout pilgrims from different parts of the country congregate here to worship a naturally formed ice Lingam, formed by water dripping through the limestone ceiling of the cave.
At Amarnath, the Lingam, a symbol of Lord Shiva, waxes and wanes with the moon. To the devotees, the waxing and waning of the Lingam with the moon is nothing short of a miracle. It is believed that Lingam reaches the maximum height on the puranmashi (full moon day) of the month of Shravan which is the main day for Darshan when devotes visit Amarnath in large numbers to pay their obeisance to Shri Amarnath which is fervent and intense.
Located in the Himalayas, in awe-inspiring surroundings of Lidder Valley, the centuries old Amarnath temple is a site of immense significance for the Hindu pilgrims. Surrounded by lofty snow-clad peaks of the Himalayas, this venerated Hindu pilgrim centre is situated at an altitude of 3,888 m and sacred to more than a billion Hindus.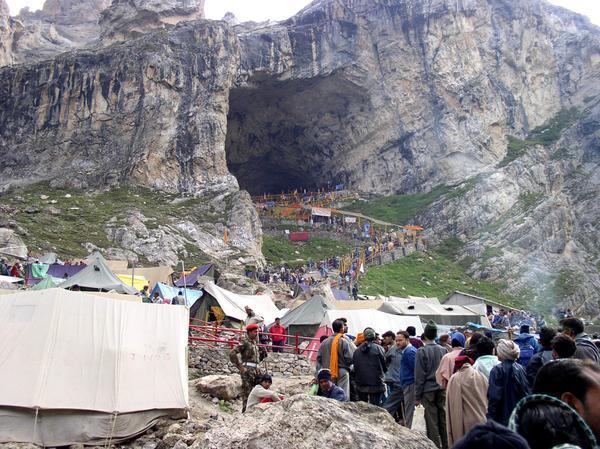 Organized by the Jammu and Kashmir government, Amarnath Yatra is undertaken by thousands of people every year. Pahalgam , situated at the junction of the Lidder and Sheshnag streams, and Baltal, located north of Sonamarg at the foot of Zojilla pass, are the bases for pilgrimage to the sacred cave shrine of Amarnath which can be conducted both from Pahalgam via the Chandanwadi-Sheshnag-Panchtarni route and from Sonamarg via Baltal route. Pahalgam, however, is the traditiona route. The Holy Mace (Chari-Mubarak) proceeds along the traditional route from Pahalgam. Pahalgam is 47 km away from Amarnath. Jammu Tawi is the nearest railway station well connected with major cities and places in India. Nearest airport is at Srinagar, the capital of Jammu and Kashmir.
The date of darshan at the sacred shrine is allotted to each pilgrim on first come first served basis depending upon the daily quota available for each route. Pilgrims should reach Jammu five days in advance to the allotted date of Darshan or Srinagar four days in advance in case of opting to travel along the Pahalgam route and 3 days in case of the Baltal route.
A journey to the sacred cave is full of thrill and joy, but at the same time exhausting. You should drink plenty of water and take time to acclimatize in order to avoid altitude sickness.